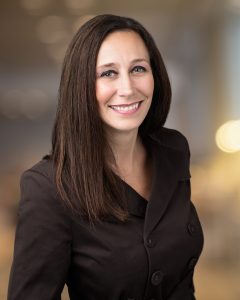 (Anchorage, Alaska)-Chugach Government Solutions, LLC, (CGS) welcomes Alexa Koontz as Senior Human Resources Director. In this role, Koontz will provide executive leadership, strategy, and the management of the human resources function to ensure the achievement of CGS's business plans and objectives. She brings more than 20 years of experience in recruiting, benefits, policy and employee development, as well as employee relations expertise.
Most recently, Koontz served as a functional expert and liaison to the executive cabinet, deans and directors for University of Alaska Southeast in support of the Juneau, Sitka, and Ketchikan campuses. Prior to that, she was the Vice President and Chief Human Resources Officer for a non-profit tribal healthcare organization. In that role, she provided overall leadership and administrative guidance for human resources, executive administration, and employee health. Over the last several years, she played an active leadership role in the completion of several merger and acquisitions. A majority of her career was spent with a highly unionized, global mechanical contractor whose expertise is in process piping and mechanical solutions for technology driven markets.
"I am excited to have Alexa as a TEAMMATE and leading our efforts to modernize our Human Resources Department. Her background in programs and processes related to collective bargaining and non-bargaining employer environments further supports CGS and its subsidiaries' growth. Her previous experience leading strategic program and policy development will guide Chugach's world-class service for our customers and people," said CGS President Tim "Hoops" Hopper.
Koontz holds both her SPHR and her SHRM-SCP and is a member of the National Society for Human Resource Management. She earned a bachelor's degree from North Carolina State University in Raleigh, North Carolina and is currently pursuing her master's degree with a focus in Rural Development.