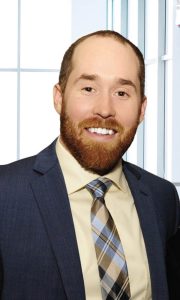 (Anchorage, Alaska) – Chugach Government Solutions, LLC, (CGS) appointed Chris Crosta to Vice President of Business Development. Crosta will be responsible for leading and developing the business development team to support organizational growth for CGS and its subsidiaries.
Crosta brings over 13 years of experience dedicated to business development (BD) for Alaska Native Corporations and Tribes. He has supported Chugach in a BD capacity for over seven years including his most recent position as Senior Director of Business Development.
CGS President, Scott Davis, shared of Crosta, "I'm excited to see how Chris will develop and
continue to grow our BD team. Chris exemplifies a leader that brings people together as a
collaborative team working toward a common goal – its just that kind of leadership that will help CGS be successful."
His prior experience includes increasing responsibilities at other native firms performing Federal Government contracting services. Crosta has a Bachelor of Science in Finance and Economics from the University of Idaho and has earned a Cost Estimating Certificate from George Washington University Law School.