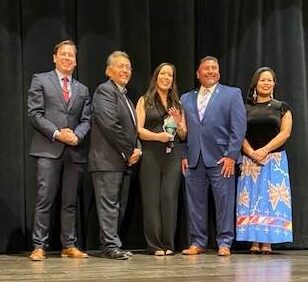 Congratulations Ashley Christensen, Director of Internal Customer Relations, on being recognized as a National Center for American Indian Enterprise Development (NCAIED), 40 Under 40 award recipient.
Annually, 40 American Indian, Alaska Native, and Native Hawaiians under the age of 40 are recognized as emergent leaders, for their initiative, dedication and the contributions they have made to their business and/or their community. Recipients include leaders working in various fields from government contracting and the non-profit sector, to conservation and technology industries. This year, The National Center for American Indian Enterprise Development held an award ceremony honoring the recipients on December 10, 2021 in Maricopa, Arizona.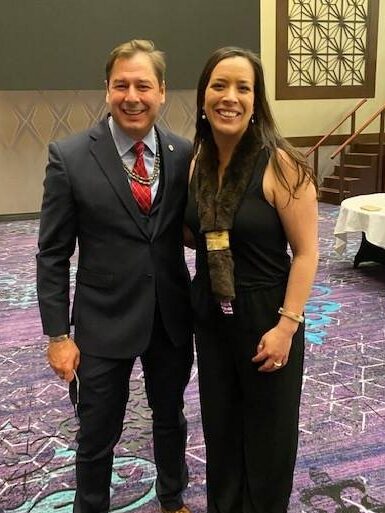 Ashley has been at Chugach for 8 years, holding various positions throughout the organization. During this time, Ashley has taken on many challenges big and small. Ashley demonstrates exceptional leadership skills from the many projects she has led at CGS including managing a significant office remodel and coordinating COVID-19 protocol. Ashley values giving back to her community. Ashley serves on the Shareholder Advisory Committee for the Eyak Corporation, and is a co-developer of the Chugach Native Professionals (CNP) group; a group of shareholders and descendants who currently work at Chugach and are dedicated to professional growth and development. In addition to her work experience and community involvement, Ashley obtained her bachelor's degree in Business Management and earned a Master Level Certification in the Alaska Native Executive Leadership Program.  
Senior Vice President of Operations, Kathy Grimes shared "Ashley's commitment to Chugach and her heritage is clear and demonstrates Chugach's core behaviors on a daily basis." She continued "Ashley is a proven leader who is an exceptional model for other Alaska Native Shareholders and employees of Chugach Government Solutions."
Congratulations, Ashley on being named a recipient for NACIED's 40 Under 40 Award.