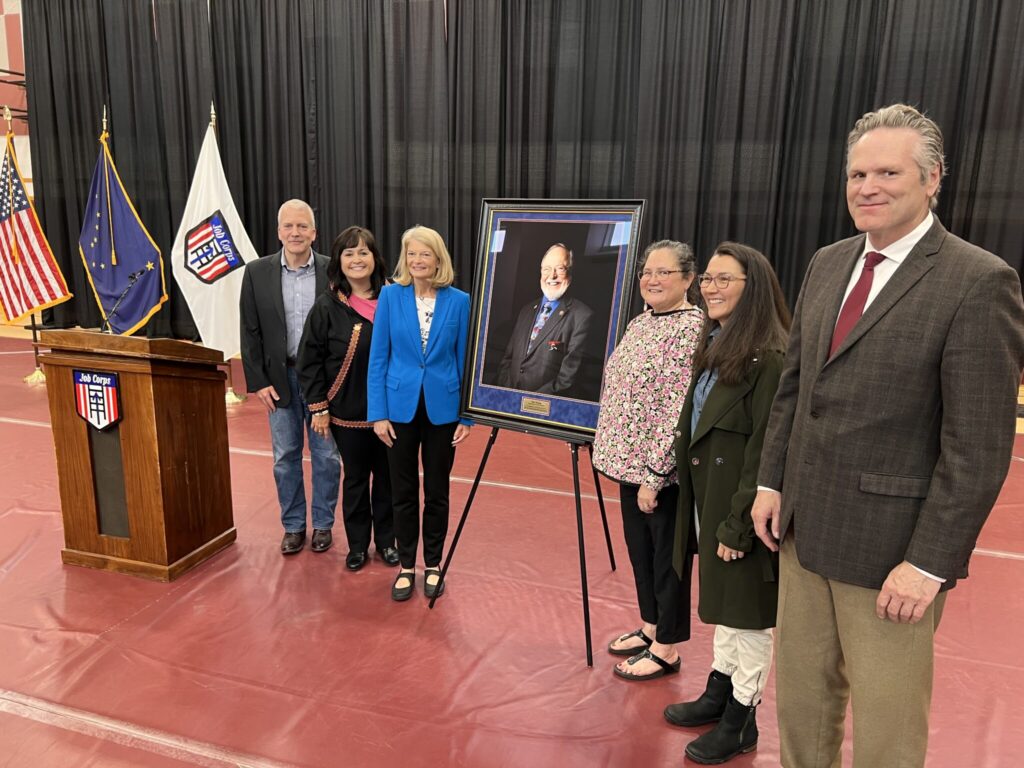 Left to right: Sen. Dan Sullivan, Chugach Chairman Sheri Buretta, Sen. Lisa Murkowski, Congressman Young's daughter Joni Nelson, Rep. Mary Peltola, & Gov. Mike Dunleavy
---
Chugach Training & Educational Solutions (CTES), a subsidiary of Chugach Alaska Corporation (Chugach), hosted a ceremony to rededicate the Alaska Job Corps Center (AKJCC) in honor of the late Congressman Don Young on June 28th
Congressman Young's career spanned five decades, during which he was a constant advocate for the State of Alaska, leading countless initiatives that have had an enduring and positive impact on residents and allowed the state to grow and prosper. The success story of the AKJCC is one of Young's many accomplishments.
In the late 1980s, the Department of Labor was working to establish a Job Corps Center in Alaska. However, Congress did not see the need for a center in a state with such a small population. Congressman Young knew a center would have a significant benefit to Alaska, and began championing the cause and working tirelessly to obtain the necessary funding to build and operate the center. After years of advocacy, the AKJCC finally opened in 1994.
Without Congressman Young's commitment, the AKJCC would not exist. In December 2022, to honor the pivotal contributions he made to the creation and success of the AKJCC, the United States Congress approved the renaming of the center to the Don Young Alaska Job Corps Center.
"We are so proud to have this opportunity to honor the legacy of Don Young and his five decades of service to Alaska and our people," said Sheri Buretta, Chairman of Chugach's Board of Directors, during the event. "I want to thank the members of Don Young's family for taking part in the re-dedication ceremony, and I want to thank Gov. Dunleavy, Sen. Murkowski, Sen. Sullivan, Rep. Peltola, and Job Corps Deputy Administrator Raquel Rimpola for being on hand to mark this occasion. I also want to thank Community Leader Janet Kinkaid for both attending this ribbon cutting and for being at the AKJCC almost 30 years ago when the first ribbon was cut that opened the doors to this incredible facility."
Chugach has operated and maintained the AKJCC since its doors first opened three decades ago, and has consistently ranked as one of the top performing Job Corps Centers in the nation, especially in the area of placing graduates in the workforce. The Center is playing a large role in solving the workforce shortage in the State of Alaska.
"It has been Chugach's honor to partner with the Department of Labor to fulfill Congressman Young's commitment to Alaska's youth. One of Chugach's core behaviors is empowering people, and we are proud of the students supported by the AKJCC's mission."